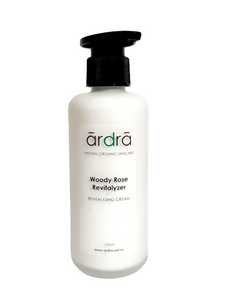 Hydrate your skin with our Woody Rose Revitalising Face Cream.
This cream has an exotic woody sweet fragrance and is a great vitaliser for mature and dry skin.

Woody rose is a smooth blend of oils that are rich in retinol. Blended in with Shea Butter, Rosehip Oil, Cacay Oil, Avocado Oil & rich essential oils of Frankincense, Geranium, and Lavender.


Rosehip oil reduces scars and fine lines and is rich in fatty acids, retinol, and antioxidants which are vital for tissue and cell regeneration.


Cacay oil is a newly discovered oil that has three times the retinol that Rosehip oil has. It stimulates collagen provides deep nourishment and is full of linoleic acid, it is a natural source of vitamin A & E.


Avocado Oil is extremely good and hydrating for softening of the skin, it is an effective treatment for acne, blackheads and skin inflammation.


Woody Rose Revitalising Face Cream 125ml
Ingredients: Rosehip Oil; Cacay Oil; Avocado Oil; Shea Butter; Olivem 1000; Glycerine; Aqua; Vit E Oil; Geranium Ess Oil; Lavender Ess Oil; Frankincense Ess Oil; Geogard 221 (Eco-Cert)