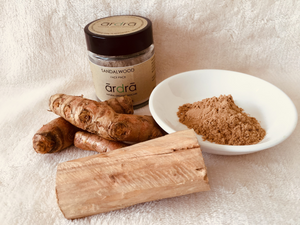 Add this to your daily skincare routine
Our Sandalwood & Turmeric Face Mask is excellent for those with sensitive skin.

It helps in curing inflammations and removes appearances of wrinkles and conditions dry and undernourished skin. It has a wonderful cooling effect on the skin.
1. Mix 1-2 teaspoons of Sandalwood Face Mask with Rose Water to make a paste.
2. Apply it evenly on the face and neck.
3. Allow it to dry for 10-15 minutes.
4. Wash off the mask with cold water.


Please keep away from moisture and always use a dry spoon to scoop out the Sandalwood Face Mask from the jar.


Ingredients: Sandalwood Powder,Turmeric, Bentonite Clay, Calamine, Tapioca Starch (Derived from Cassava Root) and Sandalwood Essential Oil