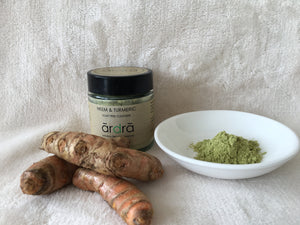 Add this to your daily skincare routine
Getting back to nature with this herbal soap-free cleanser, this cleanser comes in a powder form with blends of Neem leaf, Turmeric, Sandalwood, Gram flour, and Oatmeal and Fennel. It is a hydrating cleanser for the body and face alike for people with normal to sensitive skin.

How to use: 
1. Add a few drops of water/ rose water to a tsp of Neem & Turmeric soap-free cleanser to make a smooth paste-like consistency.
2. Rub the paste gently on your face and body and wash off with water.
Please keep away from moisture and always use a dry spoon to scoop out the Soap-free cleansing powder from the jar.

Ingredients: Neem Leaf, Turmeric Powder, Sandalwood Powder, Oatmeal, Gram Flour, and Fennel seeds