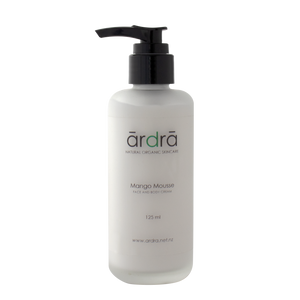 A smooth exotic moisturiser. Blended with Mango butter, Sweet Almond oil, and essential oils of Sweet Orange and Patchouli, this cream is a great hydrating cream to keep the skin soft and supple at any temperature.
The Vitamin C in Mango Butter helps to boost the skin brightening it while Vitamin A in it is a natural anti-inflammatory and antioxidant and helps to reduce fine lines and age spots. It also contains a natural Sun Protection Factor (SPF) and so protects your skin from sun damage and harmful radicals. 
Blended in with Sweet Almond oil which has similar benefits as the Mango butter, this beautiful cream is a go-to for any skin type.
Sweet Almond Oil; Mango Butter; Emulsifying Wax; Glycerine; Aqua; Vit E Oil; Sweet Orange Ess Oil; Patchouli Ess Oil; Ylang Ylang Ess Oil; Geogard 221 (Eco-Cert).