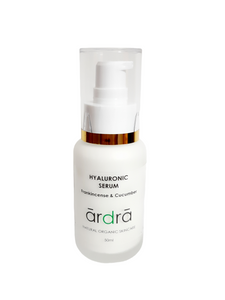 Hydrated skin is healthy skin!
Our Frankincense and Cucumber Hyaluronic cream based Serum is a great humectant which attracts moisture 800-1000 times its own weight and binds it to the skin, helping to keep it hydrated and moisturised. A natural option to a plumper healthier and toned skin. Our Hyaluronic cream based Serum is also a beautiful under eye cream for those dark circles, puffy eyes and crow's feet 
Those who have tried it love and we're sure you will too. 
Benefits: 
- Hydration and moisturising,
- Smoothens and softens the skin,
- Gives the skin a plump and healthy look,
- Improves appearances of wrinkles
- Works on Puffy Eyes, Dark Circles and Crow's Feet  
- Aids tissue regeneration and wound healing.
Ingredients - Hyaluronic Acid, Pumpkin Seed Oil, Rosehip Oil, Shea Butter, Cucumber Extract  and Frankincense Hydrosol and Frankincense Essential Oil.