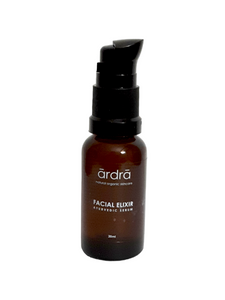 An essential night beauty treatment.
Our Ayurvedic facial elixir is a non greasy rich facial serum that sinks into the skin and absorbs quickly. It is formulated from natural herbs that help the skin look and feel young and healthy.
Rare pure Saffron illuminates the complexion and extracts of Indian Madder help smoothes fine lines and repairs early signs of ageing.
Sandalwood, Vetiver Roots and Lotus have a cooling and cleansing effect while clearing blemishes, Liquorice is an antiseptic that protects against bacterial and fungal infections and helps in the skin texture
Benefits:
- 100% Natural,
- Brightens dull skin and improves texture. 
- Repairs pigmentation.
- Minimises Fine Lines and signs of ageing.
- Relieves dark circles.
How to use: Add just two drops of Facial Elixir in the palm of your hands. Rub your hands together to warm the oil and apply to the face and neck in a gentle upward direction. Please do not use the oil directly on your face.