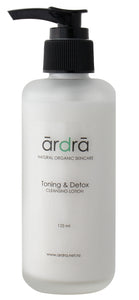 The essential oils in this lotion are wonderful in cleansing as they are fresh and uplifting, which helps detoxify and tone the skin.
The oils in this lotion are Hydrophobic, which means that the oil repels water and attracts oil and dirt.
Once the cleansing lotion is applied to the skin the Hydrophobic molecules attaches to the oil and dirt and loosens the dirt from the skin and in turn allow the water to remove the dirt easily.
How to use: Massage the lotion into the skin and remove with damp cotton or warm cloth. This lotion is a great eye makeup remover too
Ingredients: Castor Oil, Sweet Almond Oil, Olivem 1000, Distilled Water, Glycerine, Vitamin E Oil, Sweet Orange Ess. Oil, Rose Geranium Ess. Oil